February 20th, 2017
Mozart in Kassel
Read more
Even though Mozart's Die Entführung aus dem Serail is quite well known, it is not one of the composer's most popular pieces. In the 2015/16 season, it was listed on the Operabase website as only the 27th most performed opera in the season.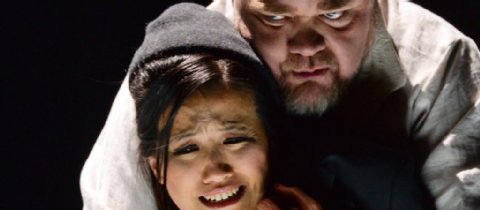 Osmin does not want to let go of his Blondchen
The music of Entführung is very beautiful and despite being vocally demanding for the singers, the biggest challenge often faced with this opera is its staging. It is often considered difficult to find an exciting concept for the simple storyline, in which a young man tries to abduct his girlfriend from a Harem.
Fortunately, all of the Entführung productions I have been a part of, to date, have been well received, with Kassel being no exception. The opening night for the current production took place in June last year and was met with enthusiasm by both the public and the press. The modern approach by Adriana Altras has successfully maintained the integrity of the simplistic storyline without compromising its humour. Adriana is not only a stage director, but also a well known actress and writer in Germany and her autobiography, Titos Bille, has also been filmed.
Under the baton of young Maestra, Anja Bihlmaier, the Kassel ensemble and orchestra combine to make musically thrilling performances. Anja has a very promising career as an international conductor and is currently the Kappelmeister in Kassel.
The ensemble members of Staatstheater Kassel are invaluable and they make it very easy for me to get the most out of my role, Osmin.The following are some of my reviews as Osmin in this production in Kassel: "...stimmlich enorm beweglichen Bassisten Bjarni Thor Kristinsson als Osmin..", "...Der Bass Bjarni Thor Kristinsson ist als Osmin in jeder Hinsicht eine Wucht..." and "...Hier versteht Osmin, von Bjarni Thor Kristinsson im Kaftan mit umwerfender Basskraft und komödiantischer Präsenz verkörpert, seinen Dienst..."
The last performance of Die Entführung aus dem Serail in Kassel this season is on March 12th.
Bjarni Thor
Oktober 16th, 2014
Exciting Season ahead
Read more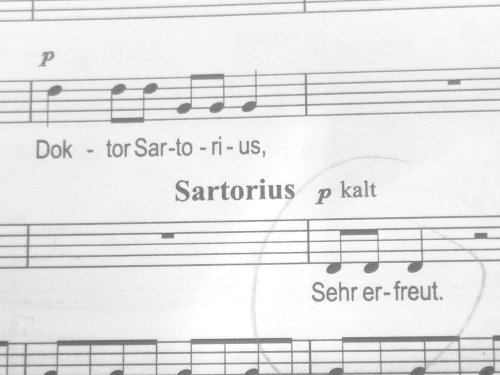 From the score of Solaris
Now at the beginning of the 2014/2015 season, I am really looking forward to all the exiting work awaiting me.
Solaris by Detlev Glanert in Köln
The first production on the schedule is a relatively new opera based on a famous story by polish author Stanislaw Lem. The opera is called Solaris and was first performed in Bregenz in 2012. The stage director is Patric Kinmonth and Lothar Zagrosek is conducting. Among the singers in the cast are many friends of mine from the wonderful Opera Köln and as always, it is challenging and fun to work on a new role in a new piece.
Lohengrin in Warsaw
Last season I sang König Heinrich in Wagner's Lohengrin at Theatr Wielki in Warsaw. The production was a big success and was "squeezed" into this season as well. The great cast is the same as last spring with the lovely Peter Wedd in the title role. Stage director is Antony McDonald and Stefan Soltesz is conducting. The performances are late december and I am looking forward to visiting this beautiful city during Christmas.
Pearls of Icelandic song
Icelandic art-songs and folk music are on the programme around new year in Reykjavik. Alongside me I have soprano Lilja Guðmundsdóttir and pianist Eva Þyri Hilmarsdóttir. We will sing in Icelandic with introductions in English. This concert series has been in the summer and new year's programme of Harpa for many years.
Lohengrin in Wiesbaden
Early spring brings another production of Lohengrin to the calendar, this time in Wiesbaden. In 1999 I sang my first Baron Ochs in Rosenkavalier in this beautiful theater and now, 16 years later I will return for the first time. Uwe-Eric Laufenberg, the former director of Opera Köln, is the new theater director of Wiesbaden and it is with great pleasure that will I sing in his new opera house. Among the cast is a great colleague and friend Oliver Zwarg making his debut as Telramund. This will be fun and exciting.
Arabella in Köln
In April I will return to Köln for a new production of Arabella by Richard Strauss. It is the first time that I will sing Graf Waldner but after doing Baron Ochs almost 100 times I am very happy to take on a new bass role by Strauss. Other roles by Strauss that I would love to do (in case you are running an opera house and would like to hire me!?) are La Roche in Capriccio and of course Sir Morosus in Die schweigsame Frau. The stage director will be Renaud Doucetand and the conductor, Stefan Soltesz. In the title role is the fantastic English soprano and friend Emma Bell.
Bjarni Thor
Oktober 19th, 2013
Carmen in Icelandic
Read more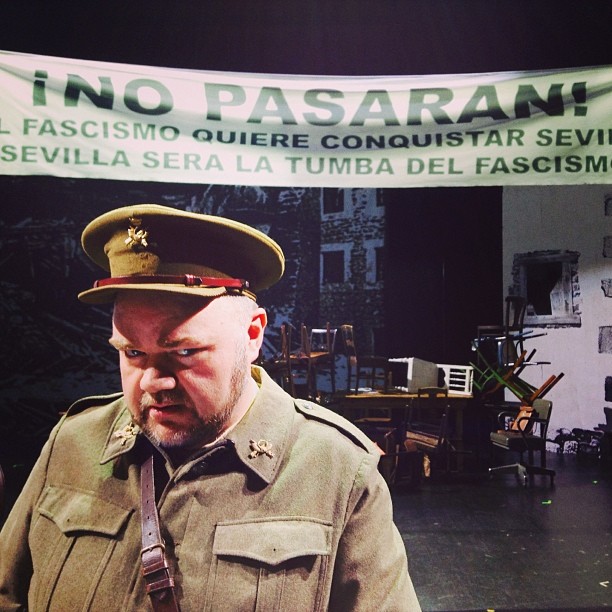 Zuniga posing in the set just before the general rehearsal last thursday (photo: Jóhann Kristinsson)
Bizet's Carmen is the 4th production of the Icelandic opera at the new Concert house Harpa in Reykjavik. The first three were The Magic Flute (in Icelandic) and then La Bohéme and Il Trovatore (both in Italian). There are always different opinions on the subject of language in opera productions but more and more opera houses perform their operas only in the original language. The Icelandic Opera follows this thrend and in the last years only Magic Flute and the dialoges of Mozart's Entführung were in Icelandic.
The opening night is tonight and everyone is getting very excited. There are two casts in the main roles; Hanna Dóra Sturludóttir and Sesselía Kristjánsdóttir share Carmen, Kolbeinn Jón Ketilsson and Garðar Thor Cortes sing Don José, Hallveig Rúnarsdóttir and Þóra Einarsdóttir sing Micaela and Hrólfur Sæmundsson and Kristján Jóhannesson are in the role of Escamillo. I share Zuniga with a good friend and a great college and bass Viðar Gunnarsson. Other roles are sung by Valgerður Guðnadóttir, Snorrí Wíum, Ágúst Ólafsson, Jóhann Kristinsson and my lovely girlfriend Lilja Guðmundsdóttir, who makes her debut at the Icelandic opera in the role of Frasquita.
The production team includes stage director Jamie Hayes and conductor Guðmundur Óli Gunnarsson.
French or Icelandic; Biset's Carmen is a masterpiece with a great story and fantastic music. The last production of Carmen in Reykjavik was 30 years ago - It was about time to do it again.
Bjarni Thor
Oktober 12th, 2013
A successful Wozzeck in Cologne
Read more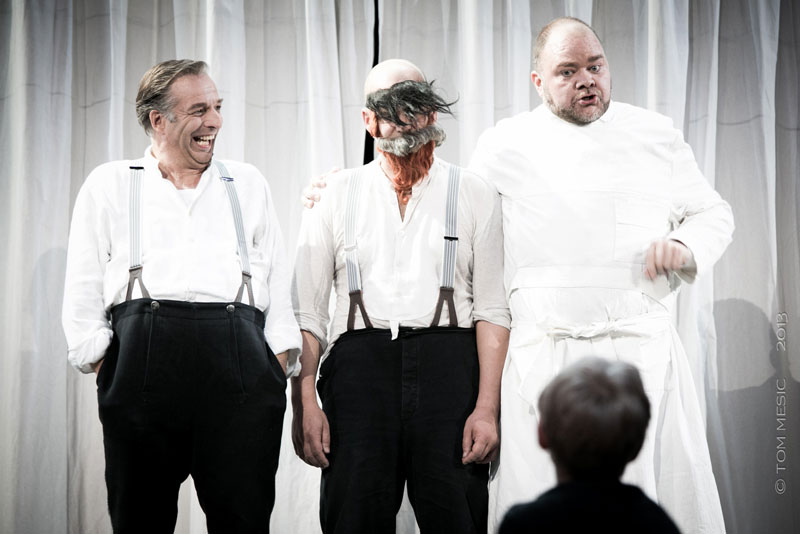 Thomas Piffka as Hauptmann, Florian Boesch as Wozzeck and Bjarni Thor Kristinsson as the Doctor, put on a show for Wozzeck's son
Alban Berg's Wozzeck is one of the masterpieces in the 20th century opera history. It is based on a play by George Büchner and "deals with the dehumanising effects of doctors and the military on a young man's life." (Wikipedia)
Two years after the opening night of the successful production of Ingo Kerkhof at the Opera in Cologne, I was asked to sing the role of the Docktor in the revival. Most of the singers where the same as in 2011 with Austrian baritone Florian Boesch as Wozzeck and the Lithuanian soprano Asmik Grigorian as Marie. Markus Stenz, GMD of the opera Cologne was conducting. Thomas Piffka was the new Hauptmann and Marco Jentzsch the new Tambourmajor.
The revival was on the 29th of September and tonight (12th of October) is the last performance in this series.
It has been a great fun to work with all those fantastic artists; specially to have the stage director Ingo Kerkhof in the rehearsel period for my first Doctor.
Bjarni Thor
February 1st, 2012
New homepage
Read more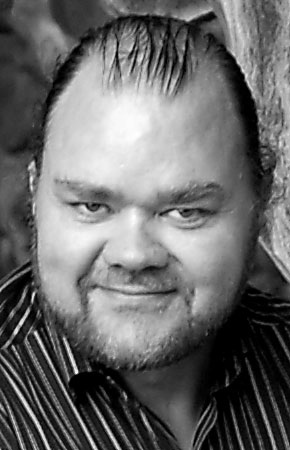 Welcome to my new official homepage. The aim of this website is to give people who are interested an oppotunity to get to know me and my work as an opera singer. You can read a short biography, check on my repertoire and calendar, look through some pictures, watch videos and read reviews. Of course only the "good" ones! On this first page I will occasionally post news. If you want to be informed please press the "like" button here on the left hand side.
I think it is important for an artist to have an official website. The amount of information one can get from the internet is huge and it does not always give the right impression. Since I am writing this page myself, I have decided to write in the 1st person. I hope this gives the website a friendly feel.
Thank you very much for visiting this new homepage and I hope you will enjoy reading about me and listening to my recordings.
Bjarni Thor
Close